I've lived in my little town house for over 6 years now, it seem like a long time, but it has flown by really. Now these places were built about 28 years ago, and for the most part they still had all the original floors and the walls were Antique White when I moved in. So far we now have laminate floors in the bedrooms, and I've painted some of the rooms, but because of my schedule and having a daycare in my home, not much else has had a chance to get done.
The bathroom has been on the list for a makeover for a while, and about 3 years ago, I picked out a paint I loved and thought would be perfect, of course that is if I got the floor replaced (it is a mustard yellow, and I say it is because thus far, we still have it!). 2 years ago, I ripped out the baseboards, in anticipation of painting the bathroom that summer. A year ago, I bought a new over the toilet cabinet in a nice dark Walnut colour from "Linens and Things" before it went under, and a really cool damask vinyl tattoo for my toilet tank and vinyl decor for my mirror from
Janey Mac Press
on Etsy. (we got a new toilet last summer too!)
I really liked the look of the mirror, but I think it really needed a frame to give it a more modern look.
Notice a trend here.... everything takes me about a year to get to.... Last month I finally painted in there (just so you know, there are still a couple spots I couldn't reach and might not get done until next year, because that's just how I roll!!) It is a very subtle blue/green, perfect for a bit of an ocean theme... not the trendiest of colours, but at least it's not antique white anymore....
I also got this wonderful bunch of goodies, for $4 at the local thrift store. A metal shelf, a metal milk/flower jug and a ornate picture frame.
I also got some trim from Rona (not in the picture but was $14 total), which I had David's dad cut for me. I was going to use Tremclad, however I was not happy with the colours avaialble, so I chose my new favourite, KRYLON, in a nice dark brown called leather brown, remeniscent of a tasty Hershey's chocolate bar, and away I went. I really do love
Krylon
because not only is it cheaper than Tremclad, you can paint plastic, wood, metal and wicker among other things with it and it dries in 10 minutes! Imagine that?!
I spray painted then, attached the trim with velcro. That is, so if I ever move, I can return the bathroom to it's original state, not that anyone in their right mind would want it back to that!!
Even though up close you can see a tiny bit of the velcro in the mirror, it's only slight and only if you are actually looking for it, so I'm happy with the results! If you don't want to do it yourself for a few dollars, you can have a custom made frame from
Mirror Mate
, though they were a bit pricey for me.
I'm happy with it, specially that the whole bathroom now looks together, ignore the 7 toothbrushes and piles of towels on the rack.... I said together, not perfect, haha!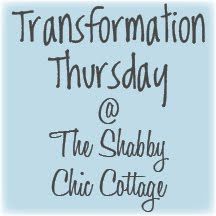 Check out Shabby Chic Cottage for other wonderful makeovers and transformations!
Cheers and happy Thursday!
Viviana