There's something pleasing about finding a bargain at the dollar store that you were wanting at a much higher price somewhere else. That is the case with this awesome roll of Adhesive Blackboard, which I purchased for $1, as opposed to paying $16+ for 2 sheets from a well known stamp company!! The sheet measure 17 3/4" by 31 1/2" inches, so fairly large for the price. I bought one and brought it home to try it out, not convinced yet, but curious.
I got the jars for $1 each at a Calgary Dollars table, I think they may be Ikea jars, but I'm not certain.
That die has been pretty handy for a lot of things!
I have these jars that I wanted to put some labels on and then maybe use seasonally for chocolates, gum and candies, maybe tea and sugar. I figured if it sucked, I only spent a dollar, then I could splurge on the expensive stuff.
I used my Stampin' Up Label die which I adore, I've used it for all kinds of projects, but this would be a definite awesome way of using it for sure.
To my delight and amazement, this stuff is brilliant, the labels were perfect and repositionable enough to set them the same on the jars. The real test came when I wrote with chalk, perfect, and I wiped it clean to be able to re-label neatly.
Anyhow, I ended up using the jars for Eggie and Jelly Beans at Easter, and now I might just change it up for summer. In the fall I will fill them with Halloween Candy, pretty awesome hey?
I recently went back and bought 5 sheets of this stuff to make my re-usable signs for craft sales/yard sale signs. I recycled a few election signs which I know end up being recycled or thrown out... I will post some pictures after this weekend's yard sale.
I'm linking up,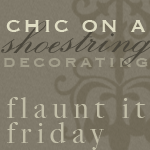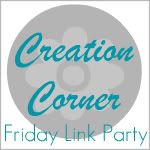 Cheers,
Viviana