A little slow in uploading the picture, but these are our waffles just before the freezer, I use just a little double waffle maker, perfect!
My son asked me why he's had to eat cereal for weeks (it's been a month and it's healthy stuff with fruit and omega3-6 soy milk!) and no waffles or pancakes, or eggs and sausages.
I guess in my plight to eat healthy I stopped using any mixes that weren't homemade, and cutting back on the amount of meats we eat, I forgot that not everyone wants to eat muesli with ground flax everyday!
So I searched the web for a great recipe for waffles, overnight waffles to be exact...the yeasty kind, the kind that makes my mouth water when I think of how yummy they are topped with fruit and whipped cream.
I settled on
The Pioneer Woman's Overnight Waffle Recipe
, which looked easy and tasty too.
I didn't change much on it, except that I used half almond half soy milk at 1 cup of each (my son can't handle milk, but butter is ok) rather than regular cow's milk.
Here is the ingredients,
2 cups All-purpose Flour
1 teaspoon Yeast
1 Tablespoon Sugar
1 teaspoon Cinnamon
½ teaspoons Salt
2 cups Milk
½ teaspoons Vanilla Extract
1 whole Large Egg
6 Tablespoons Unsalted Melted Butter
Nonstick Spray For Waffle Iron
I loved that you can mix and go to bed, and I got up at 6:30 rather than 6 to make them!
These are their instructions, super easy!
1. In a large bowl, combine flour, yeast, sugar, cinnamon and salt. Whisk in milk and vanilla until blended. Cover the bowl tightly with plastic wrap and let stand overnight at room temperature.
2. In the morning, heat the waffle iron. Beat the egg and melted butter into the batter, which will be quite thin. Spray hot waffle iron with nonstick spray. Add just enough batter to cover the cooking surface.
3. Cook waffles until crisp and brown, but not too dark, about 2-3 minutes each.
Makes 6-8 standard waffles, or 3-4 Belgian waffles.
Since there is only two of us (and he is 6) we only ate 3 waffles and froze the rest so we can pop them into the toaster later on in the week. Today I served them with banana slices and breakfast sausages, next time maybe we'll do a poached egg and berries. The texture is crispy on the outside and fluffy in the middle, my son loved the cinnamon and asked if they were chocolate ; a true complement on the taste!
This is what we ate at Grandmas every morning, she has a huge raspberry patch!!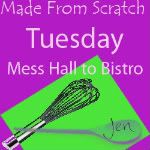 Tomorrow I shall make eggs, with tortillas (the homemade corn ones)...egg tacos perhaps, yum!
Onwards and forward with my domestic endeavours!
Cheers,
Viviana